Spotify has a driving mode experience for our users on the go. It was our job to keep the listening sessions as enjoyable as always in the context of the road, experience relies on audio signals and context.
I conducted and created documentation for:
Kicking off the project with our squad, by defining goal and success metrics.
IA Design for Audio
Audio Design Principles
Prototyping (in the app and the space with simulator)
In-Person Testing with Simulator
Research plans and recruiting
Outcomes and next steps
An article highlighting this feature.
My role:
Product Designer in Spotify Driving Mode, leading the Audio Stack work.
Scope
We had to design, test and have a production ready experience with Audio for the Driving Mode app.
THE PROBLEM TO SOLVE
Our main consideration for Spotify's Driving Mode was to avoid visual overload and unnecessary distractions at a glance. Instead, we were looking to provide additional context for all navigational information and additional feedback through audio.
THE OPPORTUNITY

We believe an Audio Stack strategy could prepare this hands-off experience for safer driving, while providing the primary feedback the user needs.
DeSign PRocess
After a few sketching sessions, we gathered enough understanding from data, product and our users on what the baseline for the test should be: a single 4-action experience would help us simplify the experience enough, while keeping Spotify core's brand.
Audio Cues:
Enable "Visibility of system status" by providing users with non-visual feedback as to what has just happened.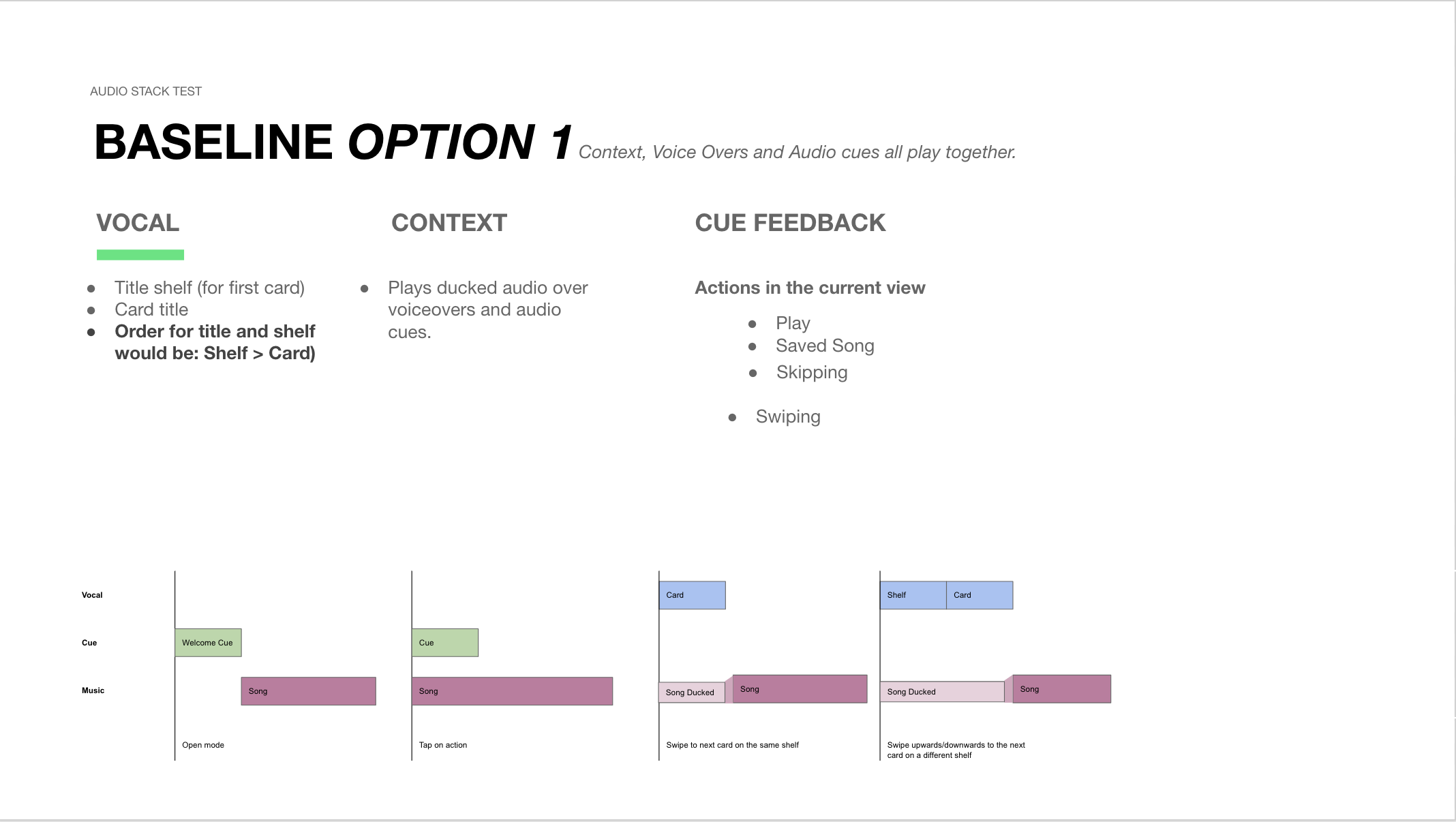 Example of Prototyping For Audio
I used Sketch, After Effects and InVision.
USER RESEARCH
We ran usability sessions for 3 days in London. We set up the room with a simulator, similar to a video game, where the testers could use an accelerator, driving wheel and set up their phone to their preference.
What we learned
Since Driving Mode still to be launched, this is the part where it gets into NDA territory. Happy to chat more about high level insights in person!